MSI Unveiled MS-98H6 Pico-ITX and MS-98H2 Qseven
Braswell Industrial Boards with Ultra Low Power Ever!
Type: Product News
Latest Update: Wed, 27 Jan 2016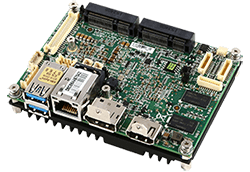 MSI unveiled MS-98H6 Pico-ITX 2.5" SBC and MS-98H2 Qseven module board with Intel® Braswell platform, in response to the increasing demand for low-power computing system. Both boards come with Intel® Braswell N3000 series SoC for 5-7 year long life cycle, 4-6W ultra low power consumption, and 3 independent displays (4K/2K supported), offering the market with reliable fanless solutions in small form factors.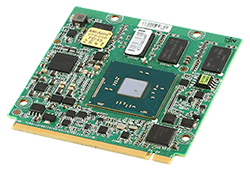 The small size Pico-ITX MS-98H6 is equipped with 2 RS-232/422/485 powered COM, mSATA, miniPCIe, and 16 GPIO, which altogether benefit the applications in automation, remote control/data acquisition, transportation (e.g. gate control), IoT gateway, and digital signage. And the MS-98H2 Qseven module board is ideal for mobile or scalable systems with its small size and modular capability, for example the communication and networking, transportation, energy, and automation. In addition, the Qseven MS-98H2 module is compliant with R2.0 interface that allows more application possibilities.
Key Features:
• Intel® Braswell N3700/N3150/N3050/N3000 Series Processor (BGA type) to support 4W to 6W ultra low power fanless applications and long life cycle
• Ultra-small size with onboard 2G memory, rich I/O, and expansion slots
• 3 independent displays capability with multiple display interfaces; 4K/2K supported
• MS-98H6 Pico-ITX: 2 RS-232/422/485 powered COM port for surveillance or remote control, 1 LAN, 2 USB 2.0 and 2 USB 3.0, 1 mSATA, 1 miniPCIe, and 16-bits GPIO
• MS-98H2 Qseven: 2 or 6 LAN via MS-99A1 carrier board, 4 USB 2.0 and 2 USB 3.0, 1 COM, 3 PCIe x1
• Ideal for automation, remote control/data acquisition, transportation (such as gate control), IoT gateway, small/medium/large size HMI PPC, digital signage
To learn more about the Pico-ITX and MS-98H2 Qseven Braswell industrial boards, please visit:
http://ipc.msi.com/product/pages/ipc/MS-98H6.html
http://ipc.msi.com/product/pages/ipc/MS-98H2.html