MSI IPC Four Products Win Taiwan Excellence 2011 Award
Type: Product News
Latest Update: Wed, 19 Jan 2011

【Taipei, Taiwan】 The list of finalists and winners of the 19th Taiwan Excellence Award, organized by TAITRA (Taiwan External Trade Development Council) and sponsored by the Ministry of Economic Affairs' Board of Foreign Trade has been announced. To qualify for selection, products must meet criteria in four categories—innovative development, unique design, excellent quality, and international marketing brand capabilities. In addition, innovative value is the most important rating criteria in each of these areas. Backed by solid R&D capabilities and driven by insistence on quality, four of MSI IPC (Industrial Platform Computing) products have won awards after passing rigorous testing and evaluation by renowned specialists in industry, academics, and governments in over 70 experts around the world. With 25 years of experience in design and manufacturing of motherboards under its belt, MSI IPC provides customers quality and stability in entry, middle, and high-level products to satisfy the application needs of different industries.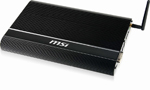 Dual core and fan-less industrial system - WindBOX III (MS-9A35)
WindBOX, one of the stars of MSI IPC product lines, was developed in accordance with three core design principles—innovation, user-friendliness, and green engineering. It represents a radical change from traditional large boxy industrial systems. Built for tough environments and to meet the needs of customers, the WindBOX III features the ultra-low power Intel® CoreTM 2 Duo processor and the Intel® GS45+ICH9M chip set, providing high performance and low power consumption. The fan-less design ensures quiet operation and no need to worry about fans malfunctioning. MSI debuts WindBOX III (MS-9A35) with great 3D graphics performance for a high definition up to 1080P and supports multiple video output (DVI-I for VGA and DVI-D, HDMI) for dual independent display. For the internet demand, WindBOX III comes with a module that has a built-in WiFi 802.11b/g/n and blue-tooth module.

Instead of mechanical fans, the WindBOX III has a special aluminum cover design that dissipates heat naturally, greatly reducing power consumption. The user-friendly design includes an ultra-thin, ultra-small body and a VESA mount, therefore the WindBOX III can be used for digital signage or as a terminal. The built-in SIM card slot and flexible rear window design allows for easy swap of key components, such as 3G SIM cards. The I/O ports are situated on the left and right sides of the main body, rather than the front and back, to make access easier when the WindBOX III is hanging or mounted to the back of a display.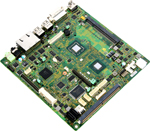 IM-GS45-M (MS-9871) with MXM for Powerful Graphic Performance
The IM-GS45-M packs the Intel® CoreTM 2 Duo processor and Intel® GS45 + ICH9M chipset to provide the latest fan-less ultra-low power board with MXM card for the most powerful 3D graphic ability which can support three 1080P high definition videos. IM-GS45-M supports one RS-232/RS-422/RS-485, 5 RS-232 COM ports and 6 USB 2.0 ports. With full I/O design, IA-Q45 is also equipped with various connectors that provide extension for various applications. With 2 DDR2 667 / 800 MHz SO-DIMM sockets up to 4GB system memory, IM-GS45-M is for the high quality memory supply. For the storage application, it supports 2 SATA ports. Moreover, it features one compact flash slot and two mini-PCIe slots enable easy expansion capability.

The I/O ports for graphics, including the HDMI, DVI, VGA and LVDS slots, support for dual independent display and come equipped with Mobile PCI Express module (MXM) with parallel processing capabilities and programmable architecture designed for computing intensive, embedded applications, like digital signage, image recognition, signal processing and monitoring, arcade games and gaming machines, and medical imaging.

IA-Q45 (MS-9876) with Intel® CoreTM 2 Duo / Quad for ATM Solution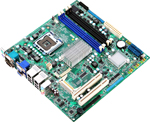 The IA-Q45 motherboard was developed by MSI IPC in cooperation with clients for use in ATM application. ATMs are high-precision, all-in-one pieces of self-service equipment that consist of both electronic and mechanical parts and are used to carry out various financial services. With environment and energy conservation in mind, MSI designed the IA-Q45 which is equipped with the low-power Intel® CoreTM 2 Duo / CoreTM 2 Quad processor and the Intel® Q45+ Intel® ICH10DO chipset to provide the most powerful Micro-ATX form factor platform. With four DDR3 800 / 1066 MHz DIMM sockets up to 8GB system memory, IM-PV-N is for the best memory supply. It features one compact flash slot, two PCI and one mini-PCIe slot enable easy expansion capability. The epoch-making IA-Q45 not only uses power sparingly, the heat it generates when running serves to enhance system stability. Even when used for extended periods of time, therefore, there is no need to worry that ATMs will overheat and crash because they've been on too long. This helps to reduce costs to customers stemming from machine maintenance. Currently sold in major markets, the IA-Q45 motherboard is highly acclaimed. Furthermore, its high competitiveness, in terms of both function and price, underscores MSI IPC's impressive R&D capabilities and resolution.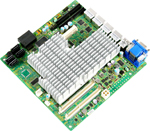 IM-PV-N(MS-9877) with Intel® Pineview D525/D425 for Networking Application
IM-PV-N targets the firewall applications of network security applications such as VPN (Virtual Private Network ), VoIP (Voice over Internet Protocol ) and NAS (Network Attached Storage ). Characterized by high-performance, powerful graphics and low-power consumption, this high-end product comes with Intel® Pineview-D D525/D425 processor and ICH9R chip set platform optional.

It supports two DDR3 800 MHz So-DIMM sockets up to 4GB system memory, meeting the memory needs for most mainstream IPC markets. It supports LAN bypass, so it is better equipped for network communication applications. The power-saving, fan-less design makes it more environmentally friendly and eliminates risk of fan malfunctions. High performance hardware needed to enhance network firewall applications has also been enhanced. For example, it boasts four SATA ports to meet high data storage demand, a CF slot to increase expandability, and wide range voltage to satisfy customer demand for diverse server applications. This innovative product provides a full range of functions that meet customer needs at reasonable price.