MSI MS-9A58 with Intel® Pineview D525 for Network Security Application
Type: Product News
Latest Update: Fri, 29 Jul 2011
【Taipei, Taiwan】MSI IPC launches MS-9A58 industrial system, a compact and fanless embedded IPC powered by an Intel® Atom™ D525 processor with DDR3 support and integrated display interface. It enables much better power savings, while providing top performance and rich I/O capability.

MS-9A58 is powered by the latest Intel® Atom™ D525 dual core processors with DD3 memory up to 4GB for D525. With integrated graphics and memory controllers, these processors deliver graphics core rendering speeds from 200 to 400 MHz while maintaining excellent power efficiency. In addition to higher speeds and less power consumption. The Intel® GMA 3150 graphics engine is built into the chipset to provide fast graphics performance, high visual quality, and flexible display options without the need for a separate graphics card. With a compact mini-ITX system size, system developers get the freedom to design small embedded applications.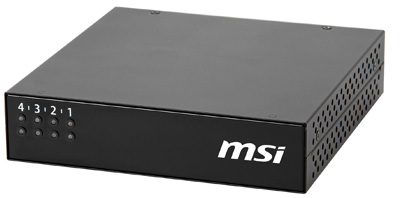 MS-9A58 supports 4 Intel 82574L Gb LAN Ports, including one pair of single latch support auto-bypass function. For the storage application, it supports 2 SATA ports. To satisfy increasing demands of connecting more peripheral devices, MS-9A58 is equipped with abundant I/O design, includes one RS-232 and one RS-232/422/485 serial ports with auto-flow control, two COM ports and 6 USB 2.0 ports. Expansion capabilities include two PCI slots, one PCIex1 slot and one mini-PCIe slot. For the internet demand, MS-9A58 comes with a module that has a built-in WiFi 802.11b/g/n module function. MS-9A58 supports ATX and wide range DC 12V / 19V / 24V inputs as the different BOM option.

With a compact mini-ITX size, MS-9A58 is designed with rich I/O functionality and has the new levels of performance and graphics for the demand in network security applications, such as small business VPN (Virtual Private Network ), VoIP (Voice over Internet Protocol ), SAN (Storage Area Network) and NAS (Network Attached Storage ).


Key Features:
1. Intel® Pineview D525 Dual Core CPU
2. DDR3 SoDIMM for better memory supply
3. 2 SATA Ports for Storage Application
4. 4 Intel 82574L Gb LAN Ports, including one pair of single latch support auto-bypass function
5. Built-in WiFi 802.11b/g/n module function
6. Wide Range Voltage Input for DC Sku (12/19/24V)
7. Support DirectX10, Shadier Model 4.0 and Intel® Clear Video Technology