MS-9A68 satisfies your display-critical tasks in diversified industrial fields
Type: Product News
Latest Update: Wed, 10 Jul 2013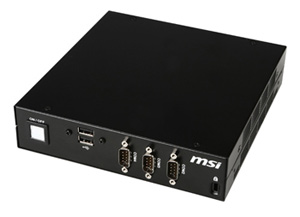 MSI's IPC division proudly announced a new embedded system, MS-9A68, for display-critical applications in diversified industrial fields. Aiming at the monitoring, video-interactive, or demanding applications with both intensive displaying and processing tasks, MS-9A68 is designed with high-performance CPU power and brilliant display capability that well-satisfy those applications, such as digital signage, gaming, surveillance, Kiosk, and public transportation. In addition to its outstanding performance, the slim, light-weighted mechanical design makes the MS-9A68 especially ideal for space-limited sites or cabinet installation.

In the aspect of graphic power, MS-9A68 was tested to be capable of running multiple 1080p 3D graphics, which allow more HD displays to be performed. The 3 or 2 independent display with three output interfaces of 2 DP and DVI-I are also pluses to this kind of applications. The design of 2 DisplayPorts and the DVI-I enables high-bandwidth transmission of videos, as well as analog or digital media to be connected. Moreover, the MS-9A68 supports DirectX 11 Shader Model 4.0 to boost the display quality to your ultimate demand.
 


With more and more applications fields that require great display output even via networking transmission, MS-9A68 provides broadband networking options of dual Gigabit LAN and 2 mSATA/Mini-PCIe for 3G, WiFi, and Bluetooth. As a bonus for display applications that need rich touch power, the MS-9A68 supports Windows 8 platform as well.
 

Display is the just one of MS-9A68's specialties. The superior processing performance empowers all sorts of control or communication tasks in industries, whether it's in factory, transportation, utility, or process automation. You'll also find the 6 USB ports and 4 powered COM ports allow the connection of various devices and peripherals with ease of additional wiring required, thereby enable more application possibilities. The great processing power and memory capacity, the excellent display features, together with the rich I/O for peripherals make MS-9A68 a perfect solution for your high-end industrial applications.


Key Features:
Intel Ivy Bridge mobile series CPU with high performance
Support standard and low-voltage DDR3 SO-DIMM memory up to 16GB
3 independent displays (for Ivy Bridge only): DP+DP+DVI-I
Great 3D graphic performance with multiple 1080p capability
Support DirectX 11 Shader Model 4.0
Dual Gigabit LAN (one with iAMT 8.0) for high-bandwidth networking applications
Dual Mini-PCIe for expansion (one with SIM holder), offering more application possibilities
6 USB ports ( 2 x USB 3.0; 4 x USB 2.0) for multiple USB connections
4 powered COM port
Support SATA 3.0 and mSATA by miniPCIe slot