Check out the Latest Intel® Broadwell Embedded System and Embedded Boards from MSI
Type: Product News
Latest Update: Tue, 28 Apr 2015
MSI takes advantage of its early access of Intel® Broadwell solution to develop an array of embedded computing products, including MS-98F3 3.5" fanless SBC, MS-98G5 mini-ITX industrial board, and MS-9A75 ultra-slim, fanless embedded system to satisfy diverse demands.

For system integrators that require small-size SBC with high performance yet low power consumption, MS-98F3 is the best answer! It's based on Intel® HSW/BDW CPU to support fanless industrial applications. Its thin design comes with 3 displays of HDMI/VGA/DP/LVDS, dual GbE LAN, USB 3.0, 4 COM, dual Mini-PCIe, dual SATA, mSATA, and 12/19/24VDC. In addition, the MS-98G5 mini-ITX board with Intel® 4th Gen Haswell/Broadwell scheme supports multiple displays (HDMI/DP/DVI-I/LVDS), PCIe(x16), rich USB and COM ports, SATA 3.0, 2 mini-PCIe, and 12/19VDC. And the MS-9A75 utilizes 5th Gen Intel® Broadwell ULT Core i7/i5/i3, Celeron Processor to support 3 independent displays (DP/DVI-I/ VGA), dual GbE LAN, 4 USB 3.0, 2 USB2.0, 1 COM, audio, dual Mini-PCIe, 2.5" HDD/SSD, and lockable DC jack. It's also features a smart bottom cover design for easy maintenance on 2.5" HDD/SSD, memory & 2 full size mini-PCIe. All the flexible designs and the DC input make MSI's Broadwell solutions ideal for any industrial scenes.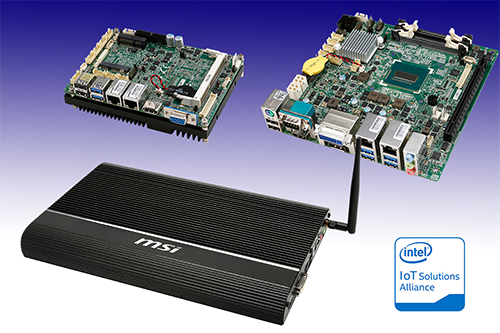 MS-98F3 Key Features:
Intel® HSW/BDW ULT Series Processors
Support DDR3L 1600 MHz SO-DIMM memory up to 8GB
HDMI and VGA/DP and LVDS display interfaces
Dual GbE LAN, USB 3.0, and 4 COM
Dual Mini-PCIe, dual SATA 3.0, and mSATA

MS-98G5 Key Features:
BGA-type Haswell/Broadwell Mobile Core i7/i5/i3/Celeron Processor
3 independent displays with HDMI, DP, DVI-I, and LVDS
Dual GbE LAN with iAMT (EIA+QM87)
2 x DDR3L 1333/1600 MHz memory up to 16GB
1 x PCIe(x16) with riser card extends to x8+x8 or x8+x4+x4
8 x USB2.0; 4 x USB3.0; 5 x COM; SATA 3.0 supported
2 x mini-PCIe slots
Auto-switch DC power 12/19V

MS-9A75 Key Features:
Slim and fanless system design with Mini-ITX board
5th Gen Intel® Broadwell ULT Core i7/i5/i3, Celeron Processor
Support DDR3L SO-DIMM up to 16GB memory
3 independent display: 2 x DP, 1 x DVI-I (support DVI-D and VGA via Y cable)
2 x GbE LAN, 4 x USB 3.0 and 2 x USB2.0, 1 x COM, audio, and lockable DC jack
Flexible design for easy maintenance on 2.5" HDD/SSD, memory & 2 full size mini-PCIe
DC-in 19V/65W adaptor