MSI at COMPUTEX 2008 Taipei
Experience yourself the MSI "ECOlution"
Type: MSI News
Latest Update: Tue, 03 Jun 2008
[2008/6/1, Taipei] MSI considered this year as one of the best ever. Not only for its continuous leadership, but also for its breakthrough achievement in innovation and outstanding product quality. Once again, MSI aims to make their mark on this year's COMPUTEX. COMPUTEX is a tech show that takes place every year in Taipei. At this year's COMPUTEX, MSI main theme is "ECOlution", short for eco-friendly and environmental evolution. MSI will showcase products and solutions that promote and empower the movement for environmental protection.

MSI will launch its Wind PC and Wind NB series products at this year's COMPUTEX which best describe its "Wind Serice" theme. Visitors can stop by MSI booth to see a live demo of the Wind series products and take a look at some of its awesome design concepts. The magnificent Wind NB features a unique screen size of 10.2 X 8.9 inches and the housing is made of high quality aluminum alloy material which is lightweight and durable. With its incredibly beautiful deep Ruby Red finish, the Wind NB will definitely draw envious looks wherever you go. The Wind NB is definitely suitable for those looking for the best thing with a reasonable price.

In other categories like motherboard and graphics card, MSI will once again unfold the technical strengths and abilities of its R&D team. MSI will launch its latest motherboard and graphics card products supporting Intel® new 45nm processors, Intel® 4 series chipsets, NVIDIA® GeForce® 9 Series GPUs, DirectX® 10 and HDMI (High-Definition Multimedia Interface). As an advocate in environmental protection, MSI high-end motherboards and graphics cards feature the exclusive "GreenPower Design" which can independently monitor the processors, chipsets and memory load conditions and automatically adjust the power supply wattage.

Based on the Mini-ATX form factor with a sleek and stylish design, the MSI server and IPC products come with competitive features such as the latest advances in technology and complete connecting ports. It is designed for enterprise-class computing environments where efficiency and stability are essential. For today's demanding enterprise environment, the MSI server and IPC products are the best solution to provide your organization with an extensible, high performance and easy implementation into production.

■P45 Series Motherboard:Equipped with Server-Class DrMOS

MSI proudly unveils its latest high-end P45 series motherboard which is powered by Intel® P45 Express chipsets. MSI has recently developed a server-class "DrMOS" technology integrated highest efficiency, zero noise, and best performance into the P45 motherboard. The MSI P45 motherboard comes with several unique technologies, including Circu-Pipe Liquid and Circu-Pipe 2 cooling solutions. It offers a perfect combination of eco-friendly features and overclocking performance. The P45 series motherboard not only provides superior energy efficiency and low temperature operation, but also offers high computing power and performance. The P45 motherboard series offers 5 motherboard selections for users to choose from: P45 Diamond, P45D3 Platinum, P45 Platinum, P45 Neo3, and P45 Neo. All these motherboards are designed to meet the needs of avid gamers and high-end multimedia applications.

■VGA:Eco-friendly MSI N9600GT Hybrid Freezer Graphics Card

MSI proudly unveils its latest [N9600GT Hybrid Freezer] graphics card. Utilizing the Hybrid Freezer technology, users can strictly monitor the temperature and control the ventilation for a more silent operation, high computing performance and effective heat dissipation. This graphics card is based on 65nm G94 GPU and includes 64 stream processors, and DDR memory on 256-bit memory interface. It also supports the latest technology such as NVIDIA® SLI Technology with PCI-Express 2.0 interface for blistering graphics performance. The N9600GT series opens a stunning world of immersive play for gamers and powerful performance for 3D applications.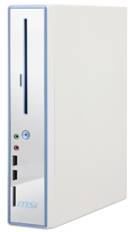 ■Wind PC:The most quiet & energy-efficient platform
MSI Wind PC is based on Intel® brand-new Atom™ processor which is designed for a mix of performance, low power usage, size and affordability. It is created specifically for performance and low idle power as low as 30 mW allowing the system to stay powered on while also conserving energy. The mini compact Wind PC only measures 6.5-centimeter, which is 3X smaller than the traditional ATX chassis. This highly-functional system is very space-saving; you can practically put it anywhere, on the table or bookshelf.

MSI Wind PC is based on Intel® Atom™ processor and Intel® 945GC, both of which use high efficiency and stability of the passive cooling system design. From the fan noise and damage concerns, the operation volume is less than 30dB which is quieter than electric fans used at home. It's even quieter than the fan of the graphics card of desktop. Get a good night's sleep even when your computer is on and say goodbye to annoying fan noise while you're working or playing. MSI Wind PC is the new generation ultra-low-power platform. The TDP (Thermal Design Power) is only 4W is 16X smaller than the general desktop processors and 9X smaller than laptop processors. With MSI excellent electronic circuit design, the full speed operation of Wind PC is only 35W. Compared to the 250W power consumption of general desktop computer, Wind PC can save up to 86% on electricity even when users use the computer for over a 24-hour period.

Moreover, the Wind PC has been certificated by the U.S. Environmental Protection Agency (EPA) and is compliant with the ENERGY STAR* Version 4.0 to enable 65% more reduction when not in use for a specified period of time.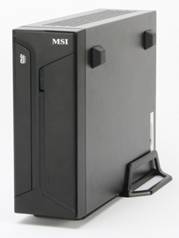 ■Titan 700:Energy Saving compact 3.1L Mini-ITX
Titan 700 barebone is based on the IPC Mini-ITX form factor and comes with VIA® CN700 + 8237R+ chipset, which provides users with high performance and stability. Unlike the original ITX motherboard, the Titan 700 has already a built-in 600W power supply module, so users does not need to have an external 110/220V power supply anymore. Thus, the Titan 700 barebone can be operated using less power. Aside from its sleek and stylish design, the Titan 700 barebone delivers high-capacity performance and essential features. It comes with a slim DVD burner, as well as 2.5-inch SATA hard drives that can effectively reduce the volume and improve the heat dissipation of the chassis. Compared against other similar products, the Titan 700 series is only 3.1litre in size; it's so small you can put it anywhere on your desk or even in a small corner of your living room. Whether for home or office, the Titan 700 series is simply the best choice.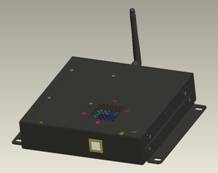 ■MS-9A07:Feature-rich Multimedia Mini ITX
MSI proudly unveils its feature-rich Mini-ATX motherboard, MS-9407, and measures just 180 X180 X 44mm (L x W x H). It is based on Intel® Core™ 2 Duo processors and supports up to 4GB DDR2 memory module. The excellent features and specifications provide user with the ultimate performance and high stability.

  Besides the superior specification, the MS-9407 is also equipped with 2 Gigabit network connection ports and 7.1-channel surround sound. It comes with powerful multimedia and network functions that enable users to use more applications such as digital signage.

■Server:High performance-price ratio server board – 5100 Master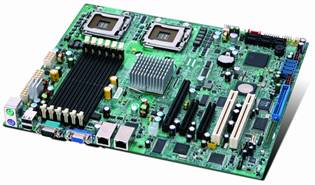 MSI is excited to once again showcase its diversified technology prowess at the 2008 COMPUTEX in Taipei, Taiwan. MSI proudly unveils the release of its new generation Intel® Xeon™ processors high-end workstation platform – 5100 Master server board, which provides a full-featured, affordable solution for high-performance users. This server board features advanced technology, including Intel® Xeon™ processors using dual-CPU platform, Intel® 5100 chipset, PCI-E interface, as well as SAS and SATA2 interface functions through RAID data backup protection. For present and future needs of powerful workstation platform, users will be amazed of MSI's latest Dual-Intel® Xeon™ solution lasting performance. If you need the best workstation solution available on the market today, then do not miss the opportunity to experience 5100 Master.

MSI COMPUTEX Exhibition Consumers and visitors are welcome to visit MSI booth at the COMPUTEX Taipei 2008 to experience and find out the latest MSI products for 2008. MSI can be located at the Nankang Hall at booth number M607a and M817. We are looking forward to seeing you at this year's COMPUTEX which will take place at Taipei's World Trade Center from June 3-7. For more details, please check our website @ www.msi.com.tw.